Custom X-Ray Simulator
According to the current EU regulation it is mandatory for all X-ray operators to be certified on a regular basis in order to ensure high competency when working with X-ray imagery. The X-Ray CAT provides a reliable and valid certification tool fully in compliance with the EU regulation 2015/1998.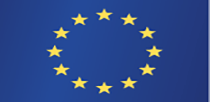 COMPLIANT WITH EU REGULATIONS
The X-Ray CAT was developed according to the EU regulation (EC 300/2008 and EC 2015/1998) and can be used for official certification of X-ray screeners.
Developed by former X-ray operators and psychologists in close collaboration with aviation security experts, it meets the claim of both being in step with operational experience and fulfilling high statistical quality standards.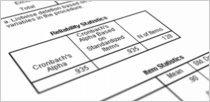 HIGHLY RELIABLE CERTIFICATION TEST RESULTS
The images for the tests are handpicked based on scientific criteria and go through a series of pre-tests in order to adhere to the highest standards. This results in excellent reliability coefficients with high Cronbach's Alpha (>.85) and split-half values (>.85) which guarantee highly reliable test results.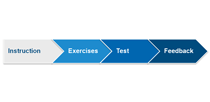 SIMPLE AND STANDARDIZED TEST PROCEDURE
The examinees are guided through the test by clear instructions and with a series of integrated exercises. This provides a fair and objective test environment with comparable results. Thanks to the feature of immediate feedback, the administrator spots directly after completion if the examinee passed the test.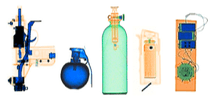 REPRESENTATIVE SELECTION OF IMAGES
The tests contain a wide-ranging selection of representative X-ray images, whereas, by default, half of the images contain prohibited items. This is the ideal relation for statistical purposes.
Upon request the number of threat items may be changed in order to meet individual requirements.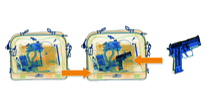 BAG-TO-THREAT MERGING ALGORITHM
Our unique merging algorithm allows for the production of a large number of images and also enables a precise and flexible control over the difficulty of the images.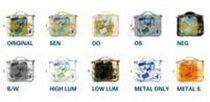 REAL-WORLD VIEWING OPTIONS
In order to make the test as realistic as possible, we integrated all common image enhancement functions to provide the same viewing conditions as the security officer would have at the checkpoint.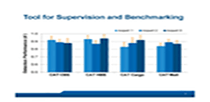 TOOL FOR SUPERVISION AND BENCHMARKING
Additionally to its function as a certification test tool, X-Ray CAT offers the option to use it as a tool to determine individual weaknesses of the security officers.
This performance benchmark based on the X-Ray CAT may also be established nationally or even internationally to discover potentials for improvement on a larger scope.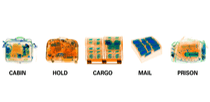 DIFFERENT TEST TYPES AVAILABLE
CThe X-Ray CAT is available in different test types for various fields of application such as Cabin Baggage Screening (CBS), Hold Baggage Screening (HBS), cargo, mail and in prison environments. On request the tests can be customized to individual requirements.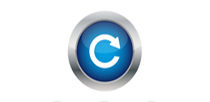 REGULAR UPDATES AND IMPROVEMENTS
The tests are validated and updated regularly to adhere to the latest standards of X-ray image quality and to comply with the official regulations.
Test Type

The test for cabin baggage screening includes guns, knives, IEDs (Improvised Explosive Devices) and other prohi-bited items (e.g. fireworks, self-defense sprays)

The cargo test contains a broad variety of IEDs made with different types of explosive material, object shapes and detonators.

This test contains a broad variety of IEDs made with different types of explosive material, object shapes and detonators.

This new test features letter and parcel IEDs as well as general IEDs that are only inserted in logically suitable conditions.

This test contains a broad variety of guns, knives, IEDs as well as prohibited items in prison environments (e.g. cell phones).
How It Works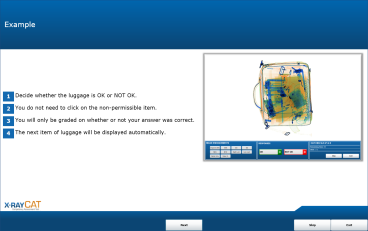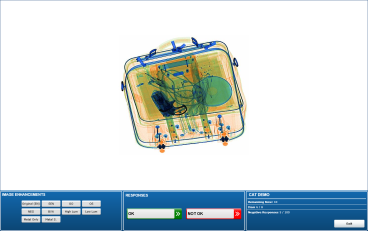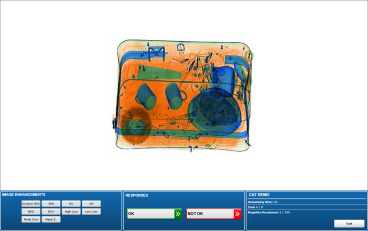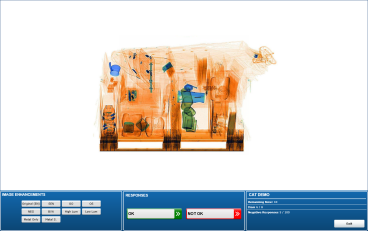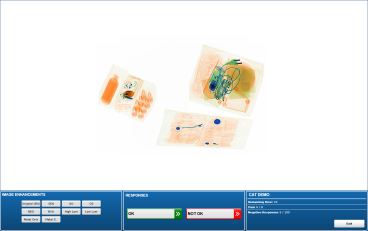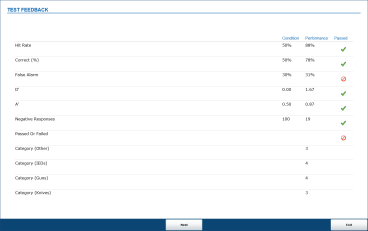 System Requirements
Our software can either be pre-installed on a local workstation (server-client) or be used as a webbased (hosted) solution. We recommend the following system configuration:
Internet connection (1 Mbit/s per user)
Windows Vista SP2 or above
Internet Explorer 9
Microsoft Silverlight 5
Screen resolution 1280×1024
Windows Vista SP2 or above
Internet Explorer 9
Min. screen resolution 1280 x 1024
Microsoft Silverlight 5
Screen resolution 1280×1024
Windows Server 2008 R2
MS IIS 8.5
SQL Server 2012
FAQ
1. Is the X-Ray CAT compliant with EU regulations?
Yes, the X-Ray CAT incorporates all criteria recommended by the ECAC.
2. What are the advantages of the Competency Assessment Test compared to real-tests?
Most importantly the X-Ray CAT provides reliable and valid test results. Getting reliable test results using real-tests is much more difficult. Furthermore, it is more efficient than real-tests, because more security officers can be tested at once. Work-time and effort, which are needed to test many security officers, are much lower.
Additionally, a security officer can be tested with more threat items than during real-tests. However, real-tests are important and should not be replaced by the X-Ray CAT. Both methods should be executed complementary.
 3. How many images must be evaluated within the X-Ray CAT?
It depends on the test version (CBS, HBS, Cargo, Mail, etc.). Normally the test includes between 160 and 256 images.
4. How long does it take to complete the X-Ray CAT?
You provide learning content that can be autonomously worked through
You provide learning content that needs to be very precise and independent of individual instructor performance
You provide learning content that greatly benefits from multimedia elements to clarify very complex or rather dry topics
5. Is there a demo of the X-Ray CAT available?
Yes, demo versions of the different tests are available. Please contact your sales partner or CASRA in order to provide you with login credentials.